HDTS enters the US/CAN market with several promising projects around the country.
Few markets have been hit by Covid-19 pandemic so hard as sport industry. In times like these, teams and their owners have to double down on efficiency. Making your training process and the whole team data-driven might be just about the most efficient thing you have ever done.
In hometown of NHL's Red Wings, new training center is being set up. Diagnostic and Training Hockey Center in Detroit is going to provide advanced athlete training facilities including top-notch analytics platform, beeSport by HDTS.
"I truly believe that in our current state of uncertainty, efficiency and data-driven decisions are key to surviving and thriving." - Petr Tichy, 4D Hockey Training owner.
Best part? In this newly built facility, everyone who wants to invest in their team's performance has best to do so!
Training and analytics center in Detroit is scheduled to open in late 2020.
Data-driven training means less injuries and maximizing team's potential
What DTHC Detroit is looking for to achieve by data-driven training process (and you can, too!):
Fewer injuries
Faster regeneration
Custom individual training plans
Player potential
Better team coordination
Enhance progress report
Training hard may get..well, hard. At times when you feel like you have hit a plateau, seeing your progress in an actionable report helps a ton.
Pro tip: Your reports should be clean and easy to read. When using proper analytic tools, you are going to gather a lot of different data points. Make sure you only display data you can understand and take action upon.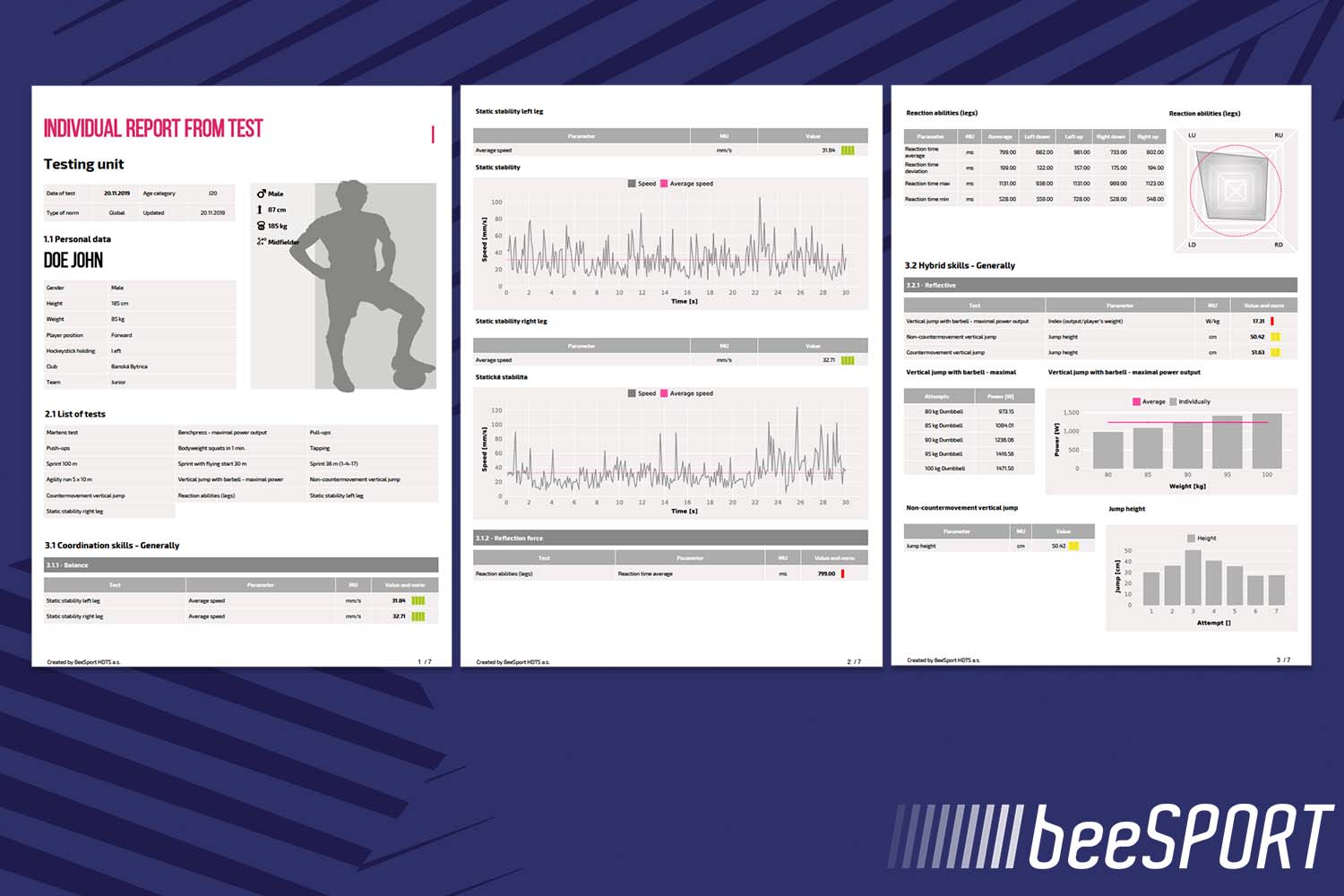 All reports in beeSport Reporter come in easy to understand, customizable interface.
"In HDTS, we believe in complexity… but in a simple way. We use several sensors and measuring instruments to gather the right amount and type of data," explains Pavol Cupa, CEO and founder of HDTS, designer of premium hockey training facilities.
Even with a basic setup of beeSport by HDTS you can measure and analyze:
Explosive strength
Quickness
Reaction time
Dynamic stability
Static stability
Common strength
By keeping the data collection process fairly straightforward, analyzing and reporting interface is easy to use by everyone.
Detroit is not alone. Several HDTS projects to come into life in coming months
Cupa believes that 11 years spent in research and development are starting to pay off. Diagnostic and Training Hockey Center in Detroit is the first hockey facility in U.S. using HDTS know-how and technology. Other projects are also finding its way navigating through Covid-19 situation.
"With dozens of complex hockey training facilities across Europe, we feel it is the right time to enter the Canadian and U.S. market. There are already several excellent projects coming our way," says Cupa.