beeSPORT app family
sports testing, analytics and planning SOFTWARE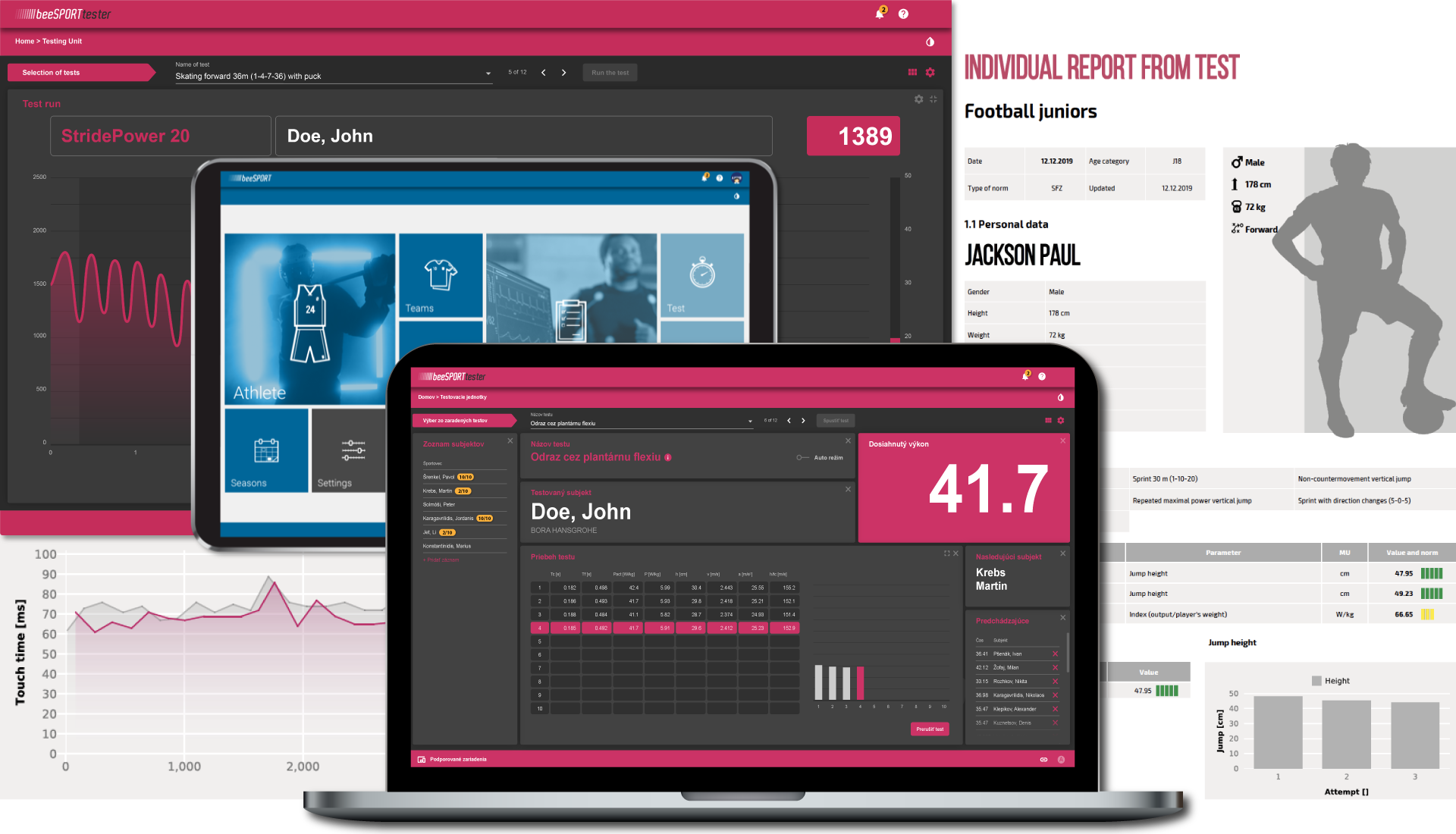 beeSPORT app family - software for professional training of athletes. It consists of individual modules (applications) that communicate with each other.
Applications are not just for testing and diagnostics. They provide the test methodology itself. Their results can be compared with standards (norms). By identifying strengths and weaknesses, results help to develop an optimal training plan. After the completion of training, it is possible to retest and compare the results in repetitive training cycles.
Family is built on the latest software technologies. It can be used on various devices (laptops, tablets, smartphones).
The diagram below shows the individual beeSPORT modules.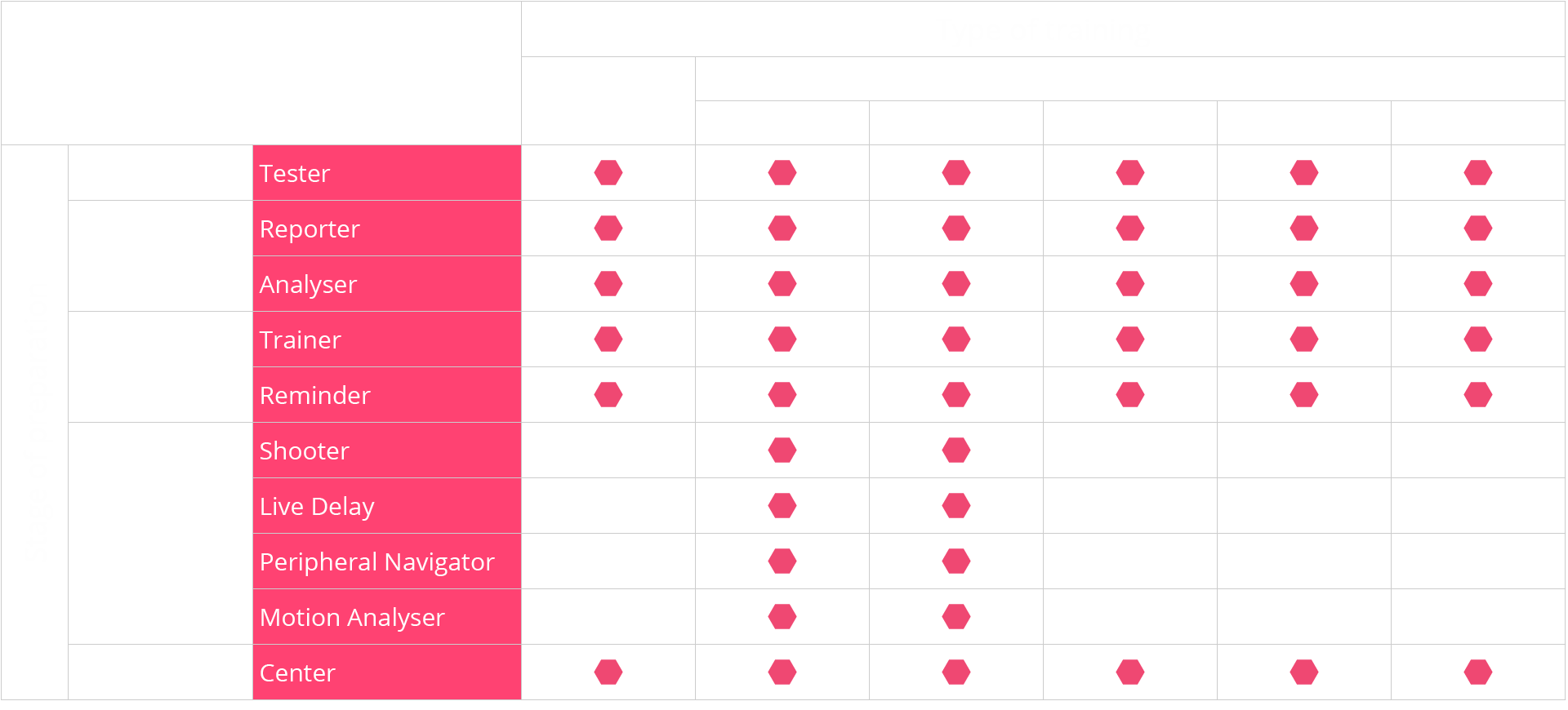 beeSPORT|tester – Used for diagnostics and testing of the athletes. It contains several dozen different tests. They are general test applicable for various sports but also specialized. The application communicates with external devices measuring various physical values. The result is instantly available for the athlete or coach.


beeSPORT|wingate – It is an anaerobic exercise test, most often performed on a stationary bicycle, that measures peak anaerobic power and anaerobic capacity. You can perform this exercise test on the Skating Treadmill (Skatemill) to get the most accurate information about a hockey player.


beeSPORT|stride power – A special test to evaluate the power of skating and find the optimal speed of Skating Treadmill (Skatemill) to develop a player's individual skills.


beeSPORT|power gate – A test on the Skating Treadmill (Skatemill) helps us to find out the special anaerobic performance and the specific endurance of the ice hockey player. You can create an individual training program and recommendations for the best training practice.


beeSPORT|shooter - Improves the shooting skills of hockey players. Players shoot at various targets specified by the software. Players' success rate it than evaluated.


beeSPORT|motion analyser - The application displays and analyses the movement of important joints of the athlete's body and helps to optimize the athlete's technique (for example, skating).


beeSPORT|reporter - Overview of the individual or team evaluation test results. Possibility of comparison with standards (norms). Player card with its history.


beeSPORT|analyser - An analytical tool for comparing and evaluating acquired information about athletes. It serves for SWOT analysis of players and teams.


beeSPORT|trainer - Application containing categorized trainings of athletes. It allows the trainer to create optimal training plans.


beeSPORT|skating instructor - Application containing a set of more than 200 video exercises on Skating Treadmill (Skatemill) and ice. Great tool for trainers to make the training process for every need of the hockey player.


beeSPORT|fitness instructor - Application containing a set of GYM exercises.


beeSPORT|reminder - A special smartphone app providing athletes an up-to-date training schedule.


beeSPORT|Live Delay - plays video of athlete's activity with a few seconds delay. Excellent tool for coaches and athletes.


beeSPORT|peripheral navigator - Helps to improve the peripheral vision of an athlete by various exercises.


beeSPORT|center - Information system of the sports center. Records of resources, different schedules. Registration of contacts, communication and other important documentation.